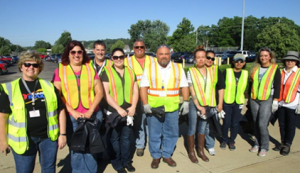 Thanks to all of you for volunteering to clean up along Dryden Road on Wednesday, June 6.
MORAINE — Employees from DMAX Ltd. in Moraine partnered with the Moraine Volunteer Program for a community cleanup on Wednesday.
Over a dozen plant employees picked up litter along the 1.5 mile stretch of Dryden Road between Main Street and Northlawn Boulevard.
A total of 220 pounds of litter and recyclable cans were picked up with 15% of the items being recycled.
"Thank you to Sherri Zeller and all of the DMAX employees who turned out on this beautiful morning to beautify one of Moraine's busiest streets," said Dave Miller of the Moraine Volunteer Program.
DMAX is a joint venture between GM and Isuzu Diesel Services of America who have manufactured over 2 million Duramax diesel engines since 2000.