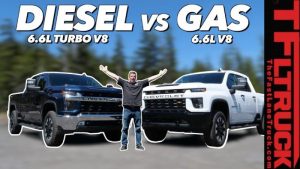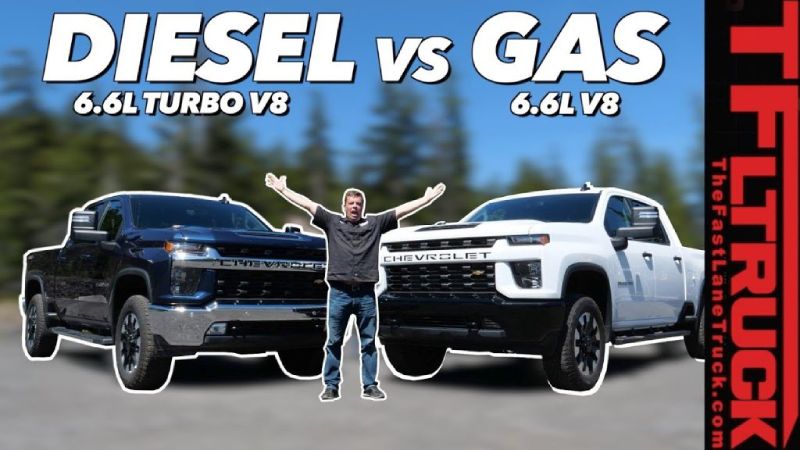 Finally, we get the first opportunity to crawl all over the the new 2020 Chevy Silverado HD trucks. There is so much new stuff to show! The 2020 heavy duty trucks are really all-new, because they ride on a new/updated frame, new wheelbase, new body, new gas V8 engine, new diesel 10-speed automatic transmission, and much more. Here is how the new 6.6-liter gas V8 compares to the 6.6-liter V8 turbo-diesel Duramax engine.
All the changes combine together for far improved weight capability. The maximum towing capacity for the 2020 HD trucks is now a class-leading 35,500 lbs.
Before we get into the specs, it's worth noting how physically large these trucks are. It looks massive and imposing in person.
The styling is very subjective, but personally out of all the new HD trucks – I like the white Custom truck you see in this video. The only negative being the large blacked out griller and the black bumper. I think an aluminum front lower skid plate or over white accents on the front bumper would greatly improve the look and function of the truck.
2020 Chevy Silverado HD
The new crew cab wheelbase is now 5.2 inches longer than the previous generation of the truck. It translates to more interior space and rear legroom.
The 2020 HD trucks have just one body panel in common with the new Chevy Silverado 1500 trucks, and it is the roof panel, including the optional sunroof. The new light duty or heavy duty GM trucks do not have panoramic sunroofs.
6.6L Gas V8
The all-new 6.6-liter gasoline V8 was specifically designed for heavy duty use. It will be in the new Silverado and GMC Sierra HD trucks.
The gas V8 is rated at 401 hp and 464 lb-ft of torque. It's mated to an updated 6-speed automatic transmission.
The gas powered Silverado 2500 trucks are rated at a maximum towing capacity of 17,400 lbs.
6.6L Turbo Diesel V8
The big L5P Duramax V8 is largely a carry-over engine from the previous generation. Considering that nearly every other component of the truck is new, it's interesting to note that the big turbo-diesel is carries on. Although, the diesel is updated for better cooling in order to handle the much higher loads.
The rating is still 445 hp and 910 lb-ft of torque. While the engine is largely the same, it's mated to a new 10-speed Allison branded transmission.
The diesel-powered Silverado 2500 trucks are rated at a maximum towing of 18,600 lbs.
Check out all the new features in the video below.