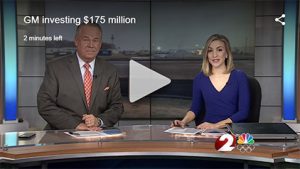 BROOKVILLE, Ohio (WDTN) – General Motors executives gathered with Brookville city officials at the Brookville fire station to announce their $175 million investment into the city. Their 251,000 square foot plant will make all new diesel engines in conjunction with the DMAX plant in Moraine. These engines are for the 2020 Chevrolet Silverado and GMC Sierra. Brookville city officials are hoping it will help stimulate the economy of a community hard hit by the Memorial Day tornadoes.
"We know that at General Motors every time we hire 1, 10 [or even] 1,000 people it has a ripple effect across the community," said Gerald Johnson the executive Vice President of Global Manufacturing for General Motors.
Officials say it will bring about 100 jobs to the area.
"Those 100 jobs become precious because they represent five times more employment across the community and across the entire network," said Johnson
The automakers picked Brookville for the site of their new Ohio plant after city leaders convinced the companies to build in their community.
"They wanted to locate near the airport and the Knoop Prarie," said Brookville mayor, Chuck Letner.
However, after some legal complications and protests, GM decided to build elsewhere.
"General Motors got tired of trying to work through the problems and they finally came to us and said 'What can you do?' and our team was on it," explained Mayor Letner.
GM executives also say the company has plans to be environmentally friendly and efficient
"We have 90 percent of our plants that are landfill-free today, just as this plant will be built on that same energy-efficiency as well as that landfill-free mind, mentality, and mission," said Johnson.
Construction on the plant is expected to be finished by the end of 2020.