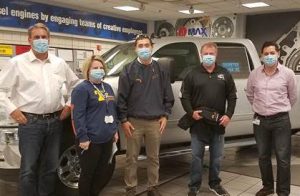 Monday, October 5, Mark Reuss, General Motors President visited DMAX. His visit started with an introduction to the owner Gary McKinney who has driven over 2 million miles with a Duramax engine. Current truck has surpassed 650,000 miles. (see photo below).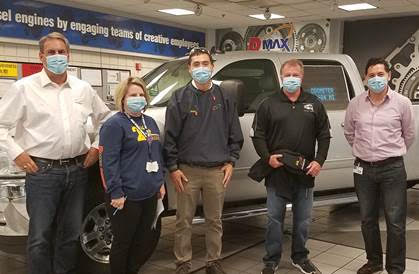 Mark then attended a Joint Leadership Diagonal Slice meeting comprised of DMAX Leadership and IUE Committee. The topics discussed were One Team/Diversity and Inclusion as well as open discussion on topics of interest to the attendees.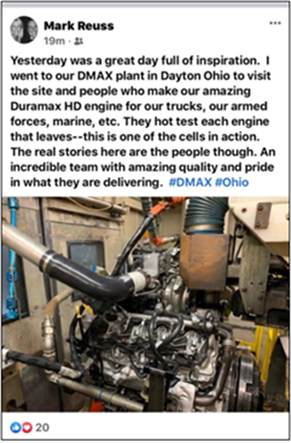 DMAX employees were invited to attend a Facebook Live discussion with Mark and Victor. Mark was quoted as saying "Lots of great questions on inclusion, the IAB, leadership qualities, Duramax lifecycle, business case of adjacent technologies (wireless battery, etc.), electrification, fuel cells, autonomous vehicles, future of skilled trades and more."
Mark and Victor concluded their visit with a Shop Floor tour. Victor commented that he has seen a truly great progression at the plant and that it is because of the people here. He also commented that he has been here enough to see that the entire team is truly proud of what they do!
Mark remarked that the workforce was very engaged and positive. On another positive note, Mark was really impressed and inspired by the people and the relationship with the IUE Union, quoting "Most of all, I am impressed by the people. They are happy, proud, and hungry. There is a thriving culture here. Be assured that I will take that back with me and tell the others!" And he did. Below is a photo of the Duramax engine posted by Mark.
Due to fog delaying their flight into Dayton, time did not permit a planned tour of the Brookline facility. However, Mark did comment that he looks forward to returning to visit the Brookville site before it's inauguration.
The Senior Leadership Team would like to take the opportunity to thank all of you for your hard work and commitment to make Mark and Victor's visit a great success. Overall, Mark felt the trip was a worthwhile endeavor stating, "I have been totally impressed today. There will be a very good future here."