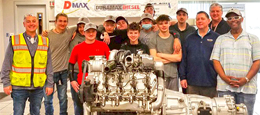 Today, 4/11/22, IUE-CWA Local 755 President Mike Gross visited DMAX with a group of Manufacturing students from Northridge High School.
Jay Ballweg and Tyrone McGuffy welcomed the students and hosted a plant tour for them all to see just how the world's greatest diesel engine in made.
It was an awesome visit, and the students really enjoyed their time here at DMAX.